24-WEEK TRAINING SYSTEM
THE RAID SERIES
The Raid Series Bundle gives you access to all 3 phases of training in our active duty and veteran developed training system for tactical athletes. Remove the guesswork from your training and get guaranteed results using our proven training methods. 
The Raid Series will give you the tools to enhance athletic performance, build lean muscle, increase speed and endurance, catapult your conditioning and will level up your ability to perform under load. All of these skill sets are essential if you are to be a world class tactical athlete. 
MOST POPULAR
PERFORMANCE PROGRAM
Are you looking for a training program that will help you excel in your military, law enforcement or fire fighting career?
This battle tested, 14 week online training program has been designed to help those in warrior professions transform their physical performance and to develop a winning mindset.
Using functional, varied and science derived training methods, you will train to become the ultimate team member and warrior athlete, who performs when it counts the most.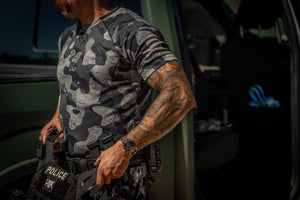 MILITARY, FIRST RESPONDERS & LAW ENFORCEMENT DISCOUNT
As veterans we believe it is our duty to give back. To thank those who serve and those who have served, it is with pride that we offer a discount to show appreciation for the daily sacrifices that are made.
OUR MISSION
Enhancing end user performance through innovative and uncompromising apparel and training products.
Drawing on operational experiences, as well our global brotherhood of SOF operators, infantryman, and backcountry hunters, every product is thoughtfully designed and ruthlessly tested by end users, for end users.
It is our promise to pursue excellence, to always go a little further, and to relentlessly innovate in all that we do, so that you can perform and have the edge, in all that you do.